<! ================((((((((((( Begin Programmer Code !>
---
Tutors Answer Your Questions about Triangles (FREE)
---
---
Question 410317: What formula should I use to find the answer to this problem: The base of a 22ft ladder is 8ft from a house. Approximately how far above the ground is the top of the ladder? I drew it and saw that it formed a triangle, but I am not sure if I am supposed to be finding the other side or when I do should I subtract it from 22.
Click here to see answer by josmiceli(9662)
---
---
Question 410380: We are learning about similar triangles (AA, SSS & SAS) and
I am stuck on the following problem:
If EF || AB, AD=9, DB=16, EC=2(AE), find AE, AC, CF, CB, CD, and EF.
(the book says the answers are: 5, 15, 13.3, 20, 12 and 16.6 - but I am not sure how)
Can someone help?
Thanks.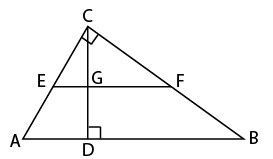 Click here to see answer by
scott8148(6628)
---
Question 410488: how does sin B = 0.6608 get transfromed into B = 41Degrees what step am i missing from changing 0.6608 to an angle (arrgggg)
using law of sines
when 33/SIN 57 degree = 26/ SIN B
next step is
33sinB = 26sin57degree
next step
sin B = 26sin57degree/33 =0.6608
sin B = 0.6608
what do i do to get this
then B = 41 degree (it all checks on a caulator) how do I get that SIN B = 0.6608 to = 41 degrees into an angle of a triangle

how do you change that to this B = 41degree
what am i missing (aaarrrrrggh)
Click here to see answer by Theo(3458)
---
---
---
Question 410904: Hello, there and thank you so much for helping me tongight!
my question today, is on special triangles. This is how my question goes:
it is a 45-45-90 triangle
i need to find the value of each variable
hypotenuse= b
one leg= 7
and shortest leg =a
i am sooo lost and thank you soo much!
Click here to see answer by josmiceli(9662)
Question 410904: Hello, there and thank you so much for helping me tongight!
my question today, is on special triangles. This is how my question goes:
it is a 45-45-90 triangle
i need to find the value of each variable
hypotenuse= b
one leg= 7
and shortest leg =a
i am sooo lost and thank you soo much!
Click here to see answer by Alan3354(30983)
---
---
---
Question 411076: 1.) If a triangle has sides of lengths 5, 12, and 13, is the triangle right?
2.) Refer to right triangle ACB. If BC = 5 and AB = 6, what is AC in simplified form?
3.) Refer to Triangle DFE. If DM = 4 and ME = 9, what is FM in simplified form?
4.) Refer to Triangle DFE. If DM = 6 and DE = 18, what is FM in simplified form?

5.) Refer to right triangle ACB. If AC = 6 and BC = 8, what is AB in simplified form?

6.) Refer to right triangle ACB. If AC = 4 and AB = 5, what is BC in simplified form?
Click here to see answer by richard1234(5390)
---
---
---
---
---
---
---
---
---
---
---
---
---
---
---
Question 413812: Hello,
I have a ladder that is 55' in length leaning against a wall, which I believe is the hypotenuse. The angle where the ladder meets the street is 55 degrees. I need to find the length of the other two sides of the triangle. I wasn't good at math 30 years ago and it hasn't gotten any better. Thanks in advance for your help.
Best regards,
ML
Click here to see answer by bayners123(12)
---
---
---
---
---
---
---
---
---
---
---
Question 414735: Choose the statement that is true about the given quantities.
Column A Column B
Sine 45 degrees Cosine 45 degrees
1.) The quantity in column A is greater.
2.) The quantity in column B is greater.
3.) The two quantities are equal.
4.) The realtionship cannot be determined from the given info.
Please help, I don't know what to do!
Click here to see answer by sudhanshu_kmr(1152)
---
---
---
---
Older solutions:

1..45

,

46..90

,

91..135

,

136..180

,

181..225

,

226..270

,

271..315

,

316..360

,

361..405

,

406..450

,

451..495

,

496..540

,

541..585

,

586..630

,

631..675

,

676..720

,

721..765

,

766..810

,

811..855

,

856..900

,

901..945

,

946..990

,

991..1035

,

1036..1080

,

1081..1125

,

1126..1170

,

1171..1215

,

1216..1260

,

1261..1305

,

1306..1350

,

1351..1395

,

1396..1440

,

1441..1485

,

1486..1530

,

1531..1575

,

1576..1620

,

1621..1665

,

1666..1710

,

1711..1755

,

1756..1800

,

1801..1845

,

1846..1890

,

1891..1935

,

1936..1980

,

1981..2025

,

2026..2070

,

2071..2115

,

2116..2160

,

2161..2205

,

2206..2250

,

2251..2295

,

2296..2340

,

2341..2385

,

2386..2430

,

2431..2475

,

2476..2520

,

2521..2565

,

2566..2610

,

2611..2655

,

2656..2700

,

2701..2745

,

2746..2790

,

2791..2835

,

2836..2880

,

2881..2925

,

2926..2970

,

2971..3015

,

3016..3060

,

3061..3105

,

3106..3150

,

3151..3195

,

3196..3240

,

3241..3285

,

3286..3330

,

3331..3375

,

3376..3420

,

3421..3465

,

3466..3510

,

3511..3555

,

3556..3600

,

3601..3645

,

3646..3690

,

3691..3735

,

3736..3780

,

3781..3825

,

3826..3870

,

3871..3915

,

3916..3960

,

3961..4005

,

4006..4050

,

4051..4095

,

4096..4140

,

4141..4185

,

4186..4230

,

4231..4275

,

4276..4320

,

4321..4365

,

4366..4410

,

4411..4455

,

4456..4500

,

4501..4545

,

4546..4590

,

4591..4635

,

4636..4680

,

4681..4725

,

4726..4770

,

4771..4815

,

4816..4860

,

4861..4905

,

4906..4950

,

4951..4995

,

4996..5040

,

5041..5085

,

5086..5130

,

5131..5175

,

5176..5220

,

5221..5265

,

5266..5310

,

5311..5355

,

5356..5400

,

5401..5445

,

5446..5490

,

5491..5535

,

5536..5580

,

5581..5625

,

5626..5670

,

5671..5715

,

5716..5760

,

5761..5805

,

5806..5850

,

5851..5895

,

5896..5940

,

5941..5985

,

5986..6030

,

6031..6075

,

6076..6120

,

6121..6165

,

6166..6210

,

6211..6255

,

6256..6300

,

6301..6345

,

6346..6390

,

6391..6435

,

6436..6480

,

6481..6525

,

6526..6570

,

6571..6615

,

6616..6660

<! ================))))))))))) End Programmer Code !>